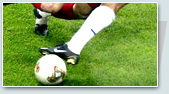 Bookie Beater is an experiment which hopes to tap into the knowledge that the Bookies have and use it to our advantage.

Bookies don't often make mistakes... so what is the harm in backing an odds-on favourite? If we can beat the interest rates offered in the bank, then isn't it worthwhile?



Read More...

Latest News

2008-01-26: Satisfying Accumulators
Last weekend's 6 match accumulator was very satisfying. The odds were terrible, admittedly, and three of the six matches ended up 1-0 but £10 became £24.72 and that is all that matters.

Celtic, Besiktas, Anderlecht, Benfica, Sporting Lisbon and Porto were the favoured teams.

This weekend sees most of Europe getting back to playing football after the winter break but unfortunately it is FA Cup weekend in England. Would you put money on Liverpool at 1/100?

I've gone for Rangers, Linfield and Bayern Munich at 2/7, 1/7 and 1/7 respectively in a three-match accumulator. Should things work out as planned, then serious consideration will be given to moving some of the proceeds on to PSV Eindhoven and Roma this evening.

Sunday's selections are still undecided but are likely to include AC Milan and AEK Athens (and maybe Olympiakos depending on how brave I feel).

Good luck whatever way you decide to go.

2008-01-12: Cup Weekend
Last weekend saw some big names struggle in the 3rd round of the FA Cup. Liverpool could only draw with lowly Luton Town and Everton crashed out at home to Oldham!

Should the Bookiebeater have a bash at backing better teams this weekend in the cup matches taking place in Scotland and Northern Ireland? Of course.

Celtic are at home to Stirling Albion which should be a "gimme". Priced at 1/20 it hardly seems worthwhile though it is a 5% return on investment!

Portadown and Coleraine play Newington and Tobermore United respectively. The home teams are facing "junior" opposition in the Irish Cup and are priced at 1/7 and 2/9. They should be too strong for the youngsters.

And finally - a rule-breaking bet on Linfield (also priced at 2/9). Linfield face Loughgall but the rule-breaker is actually the fact that Linfield are away from home.

This quad should just about double your money - but they are cup matches so be careful!

Still need help? Check out what the BBC and Sky Sports have to say about the latest footballing news in our help section or read this BetFred review.